What's the difference between a commodity and currency? 
And what's the best way to save my money as a teenager?
On March 17th 2022, 182 Year 10 students from Eden Park High gathered in the school hall for a workshop entitled Is it Financially Risky? outlining fraud, gambling, and explaining cryptocurrency and digital assets. The session provided the opportunity to test further modules in FLIC's ten-part Mastering Your Money course.
Why Eden Park?
Eden Park offers its diverse student body a longer school day than most. We brought with us a group of enthusiastic and dedicated volunteers able to support students from all backgrounds with different learning styles. The workshop delivered was built on FLIC's experience of previous sessions at MEA Central Manchester. 
Why crypto and financial risks?
When it comes to online fraud, it's all too easy to assume that elderly people are more vulnerable than young people. Yet a survey of 2,000 people commissioned by Barclays and conducted in July 2021 by Mortar Research, showed that young people were defrauded more often than older groups. Schools have also reported a sharp spike in students heavily targeted by  online fraud. Staff at Eden Park and FLIC agreed that in light of this, we should raise awareness with students  about how best to protect themselves not only from online crypto scams but from phishing texts and Gumtree adverts asking for rapid online transactions.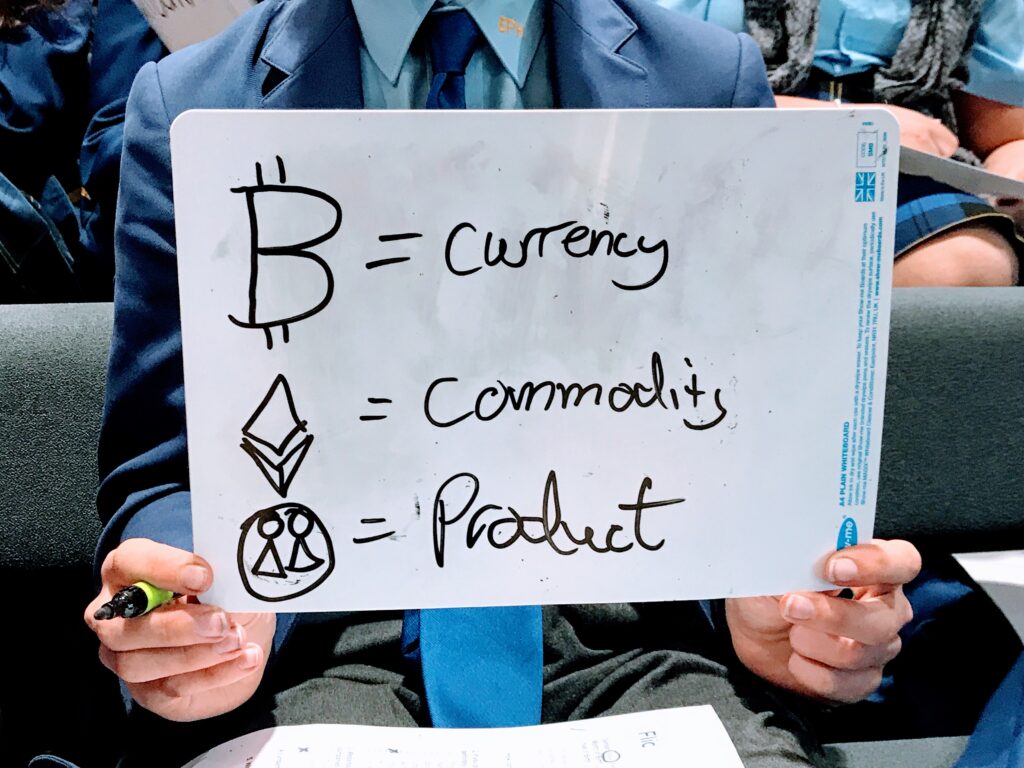 What do you want to know?
Students at Eden Park were asked in advance about their understanding of financial risks. When asked what they wanted to learn about crypto, they said:
"I would like to understand crypto more, like how to invest and why it loses its value so quickly. Because it's similar to inflation, if a lot of people buy at the same time it can impact the value. But I'd like to understand how."
"I know that there's Dogecoin and Bitcoin and it exists outside banks." –Blake
"Crypto is all around the world now." –Ryan
Influencers in the classroom
Students were joined by social media influencers Poku Banks, Ato Owede, and Charlotte Jessop, who boast a combined Instagram following of over 80,000. The trio offered students their thoughts on investments, crypto and personal finance. 
The 90-minute session included a true or false exercise on spotting phishing in the form of emails, texts, and dubious Gumtree adverts and tapped into students' interest in digital currencies with a 'Higher or Lower' crypto game. These ten-minute activities were topped off with a Q&A panel where students asked questions like ''what's the best thing to invest in right now?''
When asked what the currency of the future might be, students said: 
"Paper money will be less in use in the future. There will probably be more of a universal currency. Cryptocurrency will probably play a part in that. I'd like to understand it more."
Working with Influencers
Influencer Poku Banks, with 347.8K followers on TikTok travelled down from the University of Nottingham where he is studying finance, accounting, and management. Poku warned young people to do their research when it comes to investing. He says:
''It feels surreal to see my own video lessons in financial literacy being taught in schools. But it feels so great to work with a charity that has the same vision as me. I chose to work with FLIC as they're partnered with powerhouses and align with my vision of bringing personal finance to the classroom.''
Reflecting on the workshop, Ms Altenburg said:
''The inclusion of influencers such as Ato and Poku was a great addition to make the information more relevant for the age group. This panel reflected the demographic of the cohort and thus made the material accessible and attainable for students.'' 
Creating cautious investors 
The workshop showed how students could both protect themselves and invest. Through both aspirational and cautionary guidance,  our panel celebrated investment wins as well as sharing stories of when they had lost money to scams. 
On investing, Ms Altenburg said: 
"I think it is important for students to have a reliable source to guide them through the risks and rewards of basic investing."
To enquire about hosting a workshop in your school, please get in touch: katy.palmer@ftflic.com