To celebrate International Women's Day on March 8, FT Live put on a free online teach-in for FT FLIC with four inspirational female finance experts. 
The hybrid event, called Four things every woman needs to know about money, was chaired by the FT's consumer editor Claer Barrett, who is also a FLIC trustee. The panellists included Jane Portas, creator of the 6 Moments that Matter website; Charlotte Jessop, founder of Looking After Your Pennies; and Tobi Asare, founder of the My Bump Pay platform that helps women navigate maternity leave and beyond.

The panellists tackled four main topics, for a mostly UK-based audience: how more women can join the growing numbers who are investing; the financial impact of having children, pensions and the gender pension gap; and whether flexible working can help close the gender pay gap. But the broader message demystifying finance and boosting women's confidence around money had resonance for a global audience. It also showed how  events can help FT FLIC reach a bigger audience around the world quickly. Indeed many participants asked for followup events — and FT Live, the Financial Times's main events business, has said it would be happy to help again in future.
2,267 people registered for the event on the FT Live website and, on Twitter, a phenomenal 110,340 people watched the recording of the session.
If you missed it, do watch and share the above video with anybody or any organisation you think might benefit.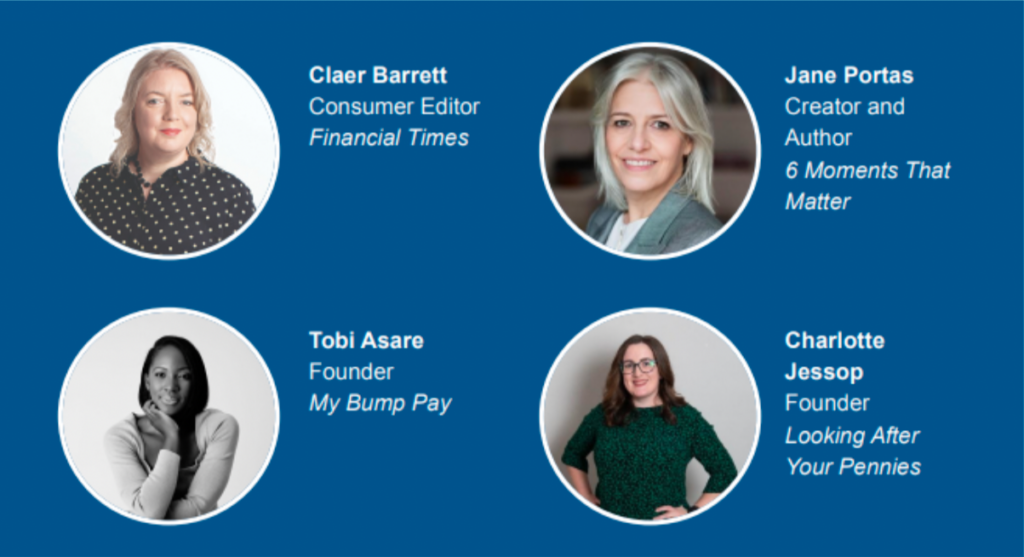 After the event
Below are answers to three questions our panellists were unable to get to in the space of an hour and which FT Live emailed to all attendees after the event. At the end of this summary is a reading list sent to all participants.
How do you calculate the gender pension gap?
The Gender Pension Gap is the difference in the total value of men's and women's pension savings, excluding the state pension. It arises due to women earning less, compounded by motherhood and caring, and relationship breakdowns. It's important to be aware if you are accumulating a Gender Pension Gap in your relationship and to make sure you understand the implications if you split up — for example if you are married or cohabit — and develop a retirement plan, to make sure you are both prepared for later life. There are six moments that matter to establish pensions independence and close the gap: invest in your skills to maximise your earnings, take advantage of workplace pension opportunities, level up pension savings in your relationship, share responsibilities at home and plan for the pension impact of work changes, do a pension plan that aligns to your whole life plan, and keep your pension records up to date.
What can be done to make maternity leave fairer across the board?
To make maternity leave fair across the board we need to see the simplification of the language used to communicate policies around leave so that there is enhanced transparency and everybody understands what they are fully entitled to and what they can expect. 
Secondly we need to work towards there being more of a balance between maternity pay/leave and paternity pay/leave. This is in order to give couples more of an option of how to split the time needed to look after a new baby. By doing so we lessen the impact on women's earnings and consequently the gender pay gap and pensions gap. Linked to this is the encouragement of shared parental leave which in the UK currently has a very low take up of 2%.
Are ISAs always tax-free or do you pay something when you take the money out?
All money you make within ISAs is tax-free. That means no paying tax when you withdraw the money, even if you are a high earner. This differs from pensions in that they are liable for tax at rates that depend on your personal circumstances when you withdraw. The thought process here is that pensions receive tax relief when you pay into them, so you haven't been taxed (ish) on that money at that point. ISAs on the other hand will come from your income AFTER tax. The plan is for you not to be taxed twice on your money.
Quotes from our speakers 
"Having a company pension is a really important investment to understand. It's an investment that you will have already, and it's an investment that you can easily learn more about because there's lots of information that companies give out."
Claer Barrett 
"Today in the UK, and it's similar across the world, women's lifetime earnings, which is the most relevant aspect when it comes to pensions because it's so inherently linked to earnings, are 59% of men's."
Jane Portas 
"It's so important for the other partner who's not carrying the baby to actually go and have a look at their policies and see exactly what they could be eligible for."
Tobi Asare
"Have conversations. It's not just the loss or earnings, it's pensions contributions, set backs on career, putting a value on her time, her career, her skills, her expertise, this is the impact it will have on me, my finances, my career. What can you do as the other parent to soften this blow for me?"
Charlotte Jessop
How impactful was the session?
To assess the event's effectiveness, we asked the audience a simple question before and after the session: "How confident are you with managing your money?" Our polling showed an impressive jump from 18 to 67 percent in the percentage who said they now knew what to do to improve their confidence in managing money.
 
Want to know more? Here is the reading list